Spice Up Your Life!
Technology Links
Sites I Like
Every Hostess gets a Free Gift!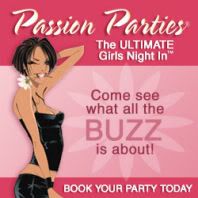 Sign Up for My Blog!
My Favorite Companies
Tuesday, August 29, 2006
My glass blowing experience!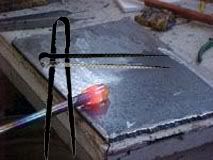 This is a Marver. Where you roll and attach the freshly gathered glass to the pontil. (the metal rod) This is about as far as I got last night!

lol.

So, after being rescheduled last week. I finally got my chance at trying glass.

Scott showed me how to gather the molten glass from the 2400 degree furnace, and then I tried. TRIED. Key word. lol. What he didn't mention was hot frickin' HOT it is. WOAH! I know, logically, it's hot, but experiencing it was way different. First, I held the pontil too low and scorched my hands from the heat, then, even with the sunglass on, I couldn't see the level of glass. I didn't even manage to gather any glass!

The second try, I did only slightly better. Again, I held the pontil wrong, too low and didn't rest it on the edge... and just stuck it in the glass and came out. I did manage to gather a little... where i tried to marver it (roll it onto the metal rod, neatly) and just flattened it!

By the 10th or 20th try I was able to gather some glass, roll it out, reheat it in the glory hole (the other burner) then sit down with it and start to shape it a little. Not one thing did I actually make. I was trying to make a simple perfume bottle stopper. nope. nada. Maybe by next time I will be able to.

Glass is sooo fascinating. It goes from very liquid, just like 2000 degree honey :) to thick taffy, to glass... There's not a lot of room for actually working it. There's a definite temperature range where it's workable. You can heat it up again, but only so many times, it gets more stiff the more you reheat it.

Anyway... I loved it. I wasn't as good as I had hoped I'd be, but I wasn't as bad as I was afraid I would be!

I can't wait until next week!
posted by Alana @ 3:19 PM

About Me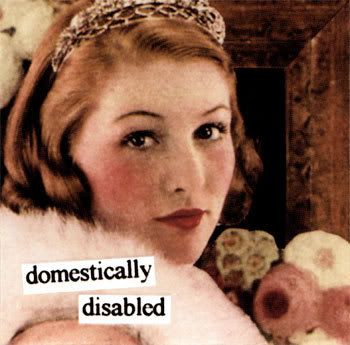 Name: Alana
Home: Marquette, MI, United States
About Me:
See my complete profile
Previous Post
Archives
Book(s) I'm Reading Now
Books I've Read This Year
The Best in Hosting & Domains
Visit Our Sponsors!
(you know you want to!)