Spice Up Your Life!
Technology Links
Sites I Like
Every Hostess gets a Free Gift!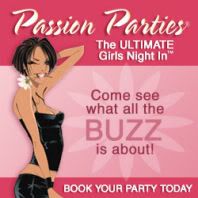 Sign Up for My Blog!
My Favorite Companies
Tuesday, August 29, 2006
My glass blowing experience!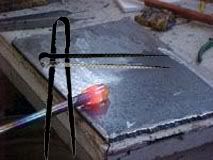 This is a Marver. Where you roll and attach the freshly gathered glass to the pontil. (the metal rod) This is about as far as I got last night!

lol.

So, after being rescheduled last week. I finally got my chance at trying glass.

Scott showed me how to gather the molten glass from the 2400 degree furnace, and then I tried. TRIED. Key word. lol. What he didn't mention was hot frickin' HOT it is. WOAH! I know, logically, it's hot, but experiencing it was way different. First, I held the pontil too low and scorched my hands from the heat, then, even with the sunglass on, I couldn't see the level of glass. I didn't even manage to gather any glass!

The second try, I did only slightly better. Again, I held the pontil wrong, too low and didn't rest it on the edge... and just stuck it in the glass and came out. I did manage to gather a little... where i tried to marver it (roll it onto the metal rod, neatly) and just flattened it!

By the 10th or 20th try I was able to gather some glass, roll it out, reheat it in the glory hole (the other burner) then sit down with it and start to shape it a little. Not one thing did I actually make. I was trying to make a simple perfume bottle stopper. nope. nada. Maybe by next time I will be able to.

Glass is sooo fascinating. It goes from very liquid, just like 2000 degree honey :) to thick taffy, to glass... There's not a lot of room for actually working it. There's a definite temperature range where it's workable. You can heat it up again, but only so many times, it gets more stiff the more you reheat it.

Anyway... I loved it. I wasn't as good as I had hoped I'd be, but I wasn't as bad as I was afraid I would be!

I can't wait until next week!
posted by Alana @ 3:19 PM

Monday, August 21, 2006
Future Glassblower???



So, I've been interested in working with glass for years now, but haven't had the guts to get into it. When David expressed an interest in glass work a few years ago, I immediately went and got him a complete starter kit for his birthday. he still hasn't touched it.

David took me to his friend's glass blowing studio this past Sunday. I think he was interested in learning. We walked in and he instantly broke into a sweat. I was instantly, finally, warm enough! Watching Scott work was amazing. i loved it! i asked him about a thousand questions and he patiently answered them all. He then suggested he would take on an apprentice! I can't wait! I'm heading over there tonight for my first evening! woo hoo!!!!!
posted by Alana @ 3:24 PM

Tuesday, August 15, 2006
Good-Bye WayneCo.
So, we've left Wayne-Co. I was sad driving up to SLC. I really enjoyed hangin out with my favorite cowboy poet, RAY.

It was wonderful in the big skies and wide open spaces. I forgot how much I enjoyed the dry, the sage smells, the people. We met some great people... and got a chance to see some old friends.

I had a great time. Now we're in SLC, getting to see a couple of our other friends.
posted by Alana @ 5:44 PM

Saturday, August 12, 2006
River Rafting in the Desert?!?!?!
So. I live in Asheville, NC. Some of the best rafting in the country. (or so i'm told) and it takes me comming out to Utah to get in a boat!

We just went on a smallish river with two 2-person duckies. I loved it! I had a blast!

Going to a party tonight, it will be nice to see people again.

abyway...
posted by Alana @ 4:29 PM

Thursday, August 10, 2006
Here in Utah
So... here I am. In Fremont, UT. It's quite, dry, and beautiful. I'm surprised how much i like it. Not really enough to ever live here again, but it is a great place.

Last week, I switched our cell phone company before we came. Our friend Rick came out here and had service with Verizon, so i paid the early disconnect fee and switched us. Now that we're here... NO SERVICE!!! I checked with verizon, to get phones similar to Rick's, but it didn't work. Wayne Co. is just to rural.

Sigh. At least i still have the internet.
posted by Alana @ 5:20 PM

Tuesday, August 08, 2006
Taking a Trip
We're heading to Utah tomorrow for a week. It's sort of a vacation. "A vacation under sad circumstance." is what David has called it.

One of my best friends passed away unexpectedly last month. She was only 68, her husband is 79. We thought we'd see her again, that we'd get to do things and hang out, kid around and tease each other. Go on a trip to Mexico together. Pry her secret recipes out of her, wince as she beat me at arm wrestling for the millionth time.... Anyway....

Who knows? you never know what's going to happen. Not from one day to the next. in recovery, it's drilled into you to live one day at a time. but it's so easy to forget and start to take things for granted.

so... i haven't thought about going to Utah until i had to pack today. i couldn't think about it. i still can't. i know i'm not dealing with my grief. i don't think i know how. not with this. it's the same devastation as if it were my mother or sister. even now, sitting here writing, i am numb. logical. unfeeling/unthinking. i can't imagine going to wayne co. and not hanging with lu. staying with ray in a huge empty house... well. maybe for a week, it won't be so empty.

we're going because we're not taking things for granted. we're going to visit with ray, tell him we love him (he walked me down the aisle at his house for my wedding-my folks were 2,ooo miles away) and maybe i'll start to feel a little bit. maybe i'll grieve, maybe i'll cry. but no more taking for granted.
posted by Alana @ 11:12 PM

About Me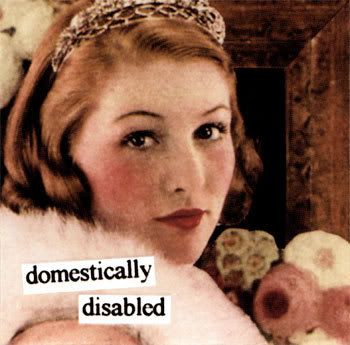 Name: Alana
Home: Marquette, MI, United States
About Me:
See my complete profile
Previous Post
Archives
Book(s) I'm Reading Now
Books I've Read This Year
The Best in Hosting & Domains
Visit Our Sponsors!
(you know you want to!)